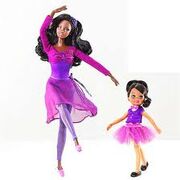 Zahara is a character in the So In Style range. 
Apperance and Personallity
Edit
Zahara is about six years old and is African-American with brown wavy hair and brown eyes. Her birthday is April 27th meaning she is a Taurus. She enjoys ballet and ice-cream. Zahara is confident, is good at making people laugh and a talented dancer. Graceful. 
Courtney
Chandra (big sister)
Janessa
Kiana
Julian
Ad blocker interference detected!
Wikia is a free-to-use site that makes money from advertising. We have a modified experience for viewers using ad blockers

Wikia is not accessible if you've made further modifications. Remove the custom ad blocker rule(s) and the page will load as expected.