Wave 1 Artsy is from the Originals wave in the
Fashionistas
series. She is an 'artist' and her fashion choices reflect that.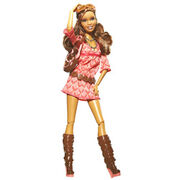 Apperance
Edit
Artsy has the Desiree facemould and is fully articulated. She is African-American and has brown wavy, shoulder-length hair. Artsy wears a pink dress with brown accessories like her belt, bag and boots. 
This doll can be seen on the I Can Be... A Fashion Desginer bonus video on the Barbie: A Fashion Fairytale DVD.
Ad blocker interference detected!
Wikia is a free-to-use site that makes money from advertising. We have a modified experience for viewers using ad blockers

Wikia is not accessible if you've made further modifications. Remove the custom ad blocker rule(s) and the page will load as expected.