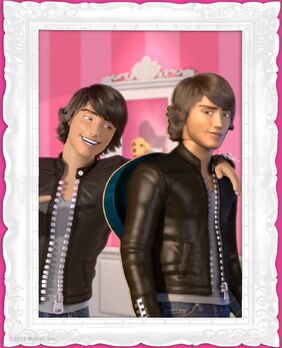 Ryan is one of Barbara Millicent Roberts's friend and Raquelle's twin brother.
Apperance and Personallity
Edit
Ryan is Asian with brown hair and brown eyes. He is 17 years old and is vain, selfish, self-obessed, etc... Ryan plays guitar and likes to write songs about the love of his life, Barbie. 
Family and Friends
Edit
Music Career
Edit
Ryan has tried to promote his music career by selling CD's at lemonade stalls and by producing music videos and ads. He has tried many times to sing for Barbie, including Barbie: Life in the Dreamhouse episodes Oh How Campy and Pet Peeve. Some of Ryan's hits include:
Man Hugs
What a Ryan Wants (based on What a Girl Wants by 

Christina Aguilera)

Ryan Wonderland 
Ice Ice Ryan (based on Ice Ice Baby)
Oops I Ryaned Again (based on Oops I Did It Again)
I Kissed a Ryan (based on I Kissed a Girl by Katy Perry)
Aen't Sold Seperately
That's a closet full of handsome.
Things girls find irresistable... Got it!
Stop saying everything I say!
Where are the shoes that are massively important to the show?
Ad blocker interference detected!
Wikia is a free-to-use site that makes money from advertising. We have a modified experience for viewers using ad blockers

Wikia is not accessible if you've made further modifications. Remove the custom ad blocker rule(s) and the page will load as expected.