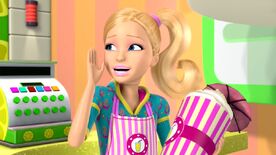 In the Life in the Dreamhouse episode, Sour Loser, Raquelle insults Chelsea Kelly Roberts's lemonade stand. Chelsea then re-desgins it and it is later bought by Raquelle. It is located in the Malibu Mall.
Ice lemon latte
Lemonade
Lemon berry dream cake
Lemon ginger gelati
Lemon poppyseed muffins
Lemon meriange pie
Extra foam
Almond shavings
Lemon peel
Mashmellow bubbles
Tiny umbrella
Chilled glass
Chai whipped topping
Giant spoon
Apperance 
Edit
Raquelle's Lemon Stand is decorated in green and yellow with a lemon pattern. Chelsea states that she would have rather used a mermaid for the logo instead of a lemon, but it had already been used by a coffee shop. (Starbucks) 
The employees include:
Ad blocker interference detected!
Wikia is a free-to-use site that makes money from advertising. We have a modified experience for viewers using ad blockers

Wikia is not accessible if you've made further modifications. Remove the custom ad blocker rule(s) and the page will load as expected.