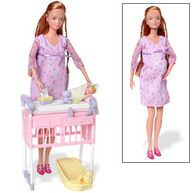 Midge and Baby is a product in the 2003 Happy Family line and was discontinued in 2005. It featured Barbara Millicent Roberts's friend, Midge Hadley and her daughter, Cassandra. You can read the instructions at http://service.mattel.com/us/productDetail.aspx?prodno=56663&siteid=27.
Reputation
Edit
This toy was highly disliked by parents and even banned from Walmart, a store in America. However, it had a good reputation from children, espically those whose mother was expecting a child. 
Offical Description
Edit
Barbie doll's friend, Midge, is having a baby! With this gift set, girls have everything they need to play out the arrival of a new baby. Baby doll fits inside Mommy doll's tummy. When it's nap time, baby changing table magically transforms into a rocking crib. Includes Midge doll, wedding ring, earrings and shoes plus baby plus accessories. Doll cannot stand alone.
Ad blocker interference detected!
Wikia is a free-to-use site that makes money from advertising. We have a modified experience for viewers using ad blockers

Wikia is not accessible if you've made further modifications. Remove the custom ad blocker rule(s) and the page will load as expected.