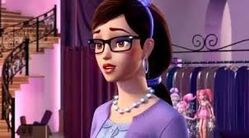 Marie-Alicea (Alice) is a friend of Barbara Millicent Roberts. She works for Millicent Rawlins in Paris, France.
Apperance and Personallity
Edit
Alice has pale skin, brown eyes and medium-length brown hair. She is creative, shy, cheerful, helpful, modest and a talented fashion desginer. She is Millicent's assistant and desgined a fashion line with her, Barbie's and the Flairies help.
Alice rides a blue scooter and enjoys flowers, sewing, desgining, sightseeing and fashion.
Ad blocker interference detected!
Wikia is a free-to-use site that makes money from advertising. We have a modified experience for viewers using ad blockers

Wikia is not accessible if you've made further modifications. Remove the custom ad blocker rule(s) and the page will load as expected.