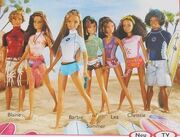 This doll is part of the Cali Girl Wave in the Cali Girl line, released in 2005. She is now discontinued. Click here to find out more about Lea, the character.
Appearance
Edit
Lea wears a purple halter-neck rashie with pinky-purpley flower patterned board shorts. She comes with a pink surfboard and her brown hair is in a ponytail, with purple sunglasses.
Official Description
Edit
It's another endless summer and Barbie® doll and friends head off for sun, surf, and sea at one of their favorite beaches. Cali Girl™ dolls are sporting the ultimate beach styles wearing board shorts, fashion beach tops and cool jewelry. Barbie®, Christie®, Lea®, Teresa® and Summer® look super hip in their every day California beachwear and Blaine® and Steven® look great too. The dolls all have gorgeous suntanned "skin" and are scented like suntan lotion. Sunglasses complete the look. Dolls have newly sculpted feet and the girls have painted toenails, too. Window box. Ages 5 and over
Ad blocker interference detected!
Wikia is a free-to-use site that makes money from advertising. We have a modified experience for viewers using ad blockers

Wikia is not accessible if you've made further modifications. Remove the custom ad blocker rule(s) and the page will load as expected.