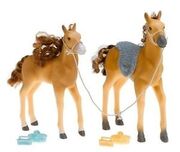 This set includes two horses, Hermosa and Redondo. Hermosa has the blue saddle and Redondo does not. It was released in 2005 and you can view the instructions at http://service.mattel.com/instruction_sheets/H0839-0520.pdf
Official Description
Edit
The Cali Girl™ Colt Assortment includes two sets of two colts each with different coloration. They are the cutest, sweetest horses in the stable. Window box.
Ad blocker interference detected!
Wikia is a free-to-use site that makes money from advertising. We have a modified experience for viewers using ad blockers

Wikia is not accessible if you've made further modifications. Remove the custom ad blocker rule(s) and the page will load as expected.