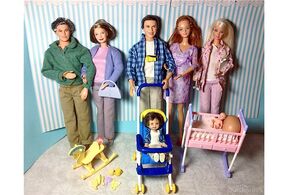 The 2003 Happy Family consisted of a series of toys based around a family of dolls, espically Midge Hadley. It featured her parents, two daughters, son, husband and many other sets, to build up the world which they lived in.
The articles we have on the seperate Happy Family products are listed below.
Ad blocker interference detected!
Wikia is a free-to-use site that makes money from advertising. We have a modified experience for viewers using ad blockers

Wikia is not accessible if you've made further modifications. Remove the custom ad blocker rule(s) and the page will load as expected.