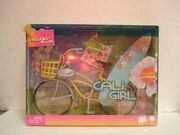 This bike was available in 2005 and is now discontinued. It was part of the Cali Girl line.
Official Description
Edit
What else would Cali Girl™ cruise around on during her happenin' Hawaii vacation but the ultimate bike. So cool with Hawaiian inspired graphics and awesome style! There's even a surfboard and a place to secure it on her bike, bike helmet and bike basket to put stuff in.
Ad blocker interference detected!
Wikia is a free-to-use site that makes money from advertising. We have a modified experience for viewers using ad blockers

Wikia is not accessible if you've made further modifications. Remove the custom ad blocker rule(s) and the page will load as expected.