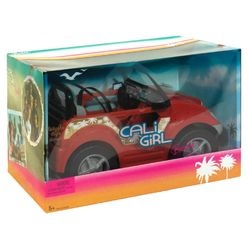 This car was available in 2005 and is now discontinued. It was in the Cali Girl line. Instructions can be read here at http://service.mattel.com/instruction_sheets/g8673-0520.pdf
Appearance
Edit
This is a red convertible car with grey seats that fits two regular-sized Barbie dolls.
Official Description
Edit
The Cali Girl™ gang takes off in their rugged red beach convertible to explore the coastline of Malibu. From the beach and up the canyons, the free-spirited, adventurous Cali Girls™ take their beach convertible for an awesome day California style. The sporty car seats two dolls and has a flip down tailgate. Also includes a console that opens to store soda cans and a pair of sunglasses. Window box.
Ad blocker interference detected!
Wikia is a free-to-use site that makes money from advertising. We have a modified experience for viewers using ad blockers

Wikia is not accessible if you've made further modifications. Remove the custom ad blocker rule(s) and the page will load as expected.