Enjoy the ultimate camping adventures with this two-in-one RV set, featuring a vehicle and camper with multiple play areas! Girls can act out making meals, dining outdoors, soaking in the pool, sleeping in style, and more!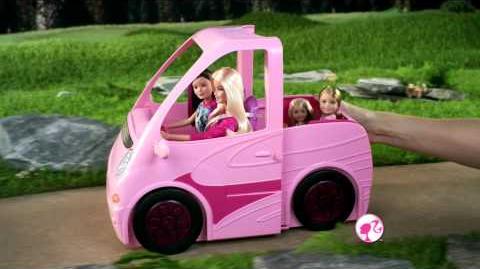 Offical Description
Edit
Two-in-One Set — a Vehicle and a Camper! Barbie and her sisters love to take camping trips together, and with this two-in-one RV set, girls can play out the perfect family vacation! The stylish vehicle separates for a smaller ride for two dolls and a horse (not included), while the camper opens to reveal multiple play areas where the four sisters (not included) can eat, sleep, swim, and more! Make Meals and Dine Al Fresco The kitchen is a great place to prepare yummy meals, with the stove, oven, sink, and even a hot chocolate maker (for those cold nights and chilly mornings)! Girls can swing out the table for outside dining — under a canopy and pink chandelier! — or grab the top of the smaller vehicle to double as a bench. A Night of R&R and S'mores! After a long day, the sisters can relax and rejuvenate in the beautiful pool. It wouldn't be a true camping experience without roasting s'mores, so the pool flips over to become a fire pit. When it's time to turn in, the full bathroom pulls out, and the beds fold down to create a bedroom — complete with big-screen TV — that can sleep Barbie doll and her sisters. Fabulous Details and Extras The Deluxe Camper is designed in beautiful pink (of course!) with glam details and comes with fun play pieces, including plates, cups, food, and "marshmallows" on sticks. When the camping trip is over, easily pack up everything, reattach the vehicle and camper, and hit the road! To maximize the play, check out the dolls in the Barbie® Sisters 2-Pack Assortment (sold separately). What's in the Box? Deluxe Camper set includes bedding, a pool/fire pit, food pieces, and dishes.
Ad blocker interference detected!
Wikia is a free-to-use site that makes money from advertising. We have a modified experience for viewers using ad blockers

Wikia is not accessible if you've made further modifications. Remove the custom ad blocker rule(s) and the page will load as expected.