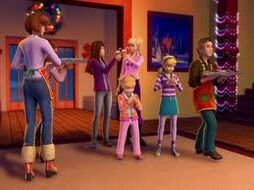 Barbie: A Perfect Christmas is a 2011 movie written by Elise Allen and directed by Mark Baldo.
Join Barbie and her sisters, Skipper, Stacie and Chelsea as their holiday vacation plans turn into a most unexpected adventure and heartwarming lesson. After a snow storm grounds their plane, the girls find themselves far from their New York City destination and their holiday dreams. Now stranded at a remove hotel in Rodchester, Minnesota, the sisters are welcomed by new friends and magical experiences. In appreciation for the wonderful hospitality they recieve, Barbie, Skipper, Stacie and Chelsea use their musical talents to put on a performance for the whole town. Barbie and her sisters realize the true joy of being together is what really makes a Perfect Christmas.
Characters
Edit
Holly Elif
Ivy Elif
Cole Elif
Christie Clawson
Rudy
Ad blocker interference detected!
Wikia is a free-to-use site that makes money from advertising. We have a modified experience for viewers using ad blockers

Wikia is not accessible if you've made further modifications. Remove the custom ad blocker rule(s) and the page will load as expected.