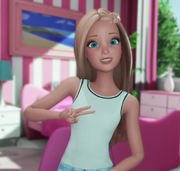 Barbie's Vlog is the name of
Barbara Millicent Roberts
's first-ever offical vlog.
Ten Things About Me
Edit
In Barbie's first video, she talks about ten facts most people don't know about her, including soda, spiders, her parents, her hobbies, what she likes at school and more. She shares that it was Skipper Roberts's idea to start a vlog. She films it in a bedroom.
Expressing Yourself with Personal Style
Edit
In Barbie's second video, she talks about how much she loves to express her unique style and how it changes day to day. She shows pictures of times she has dyed her hair. She films it in a bedroom.
Interview with People Magazine
Edit
In Barbie's third video, she answers questions from 'People' magazine. She shares that her celebritiy crushes are Taylor Swift and Zendaya, because she loves their outfits and personalities, which leaves many fans wondering whether Barbie is bisexual. She films it in a bedroom.

Trivia
Barbie ends each vlog with 'pace,' a parody on the word 'peace,' which means 'positive attitude changes everything.'
"My name is Barbie Roberts, I have three sisters and we live in LA. Well, Malibu. But I'm originally from Winscoscin."
"I don't like spiders, or drinking soda."
"But, my clothes always perfectly expressed the mood I was in."
"What would my powers be? What would my house look like?"
"And I love my hair just loose and wavy, too. There's just so many different hairstyles to try!"
"You know, I actually have a really busy Summer planned.